I won't go into much detail, firstly because it might get you confused, and secondly because HTML isn't ideal to represent mathematical formulae (fair enough that's not a good excuse, but it makes me wonder about the efficiency of Office 2000 :) Anyway, the sine function looks like this.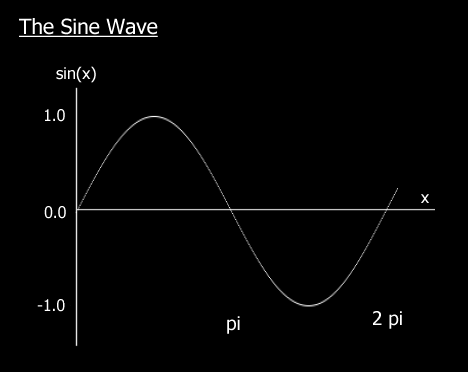 This function has a period of 2 pi, which means that every 2 pi up to infinity, it will repeat itself identically. However, you benefit from extra speed if you restrain the argument of the sin() function from 0 to 2 pi. Additionnaly the sine function always returns a value within the interval [-1,1]. Also note that sin( 0 ) = 0 and sin( pi / 2 ) = 1, and that the function grows strictly over that interval. This property is used for sine interpolation... Even though it's not used very often, I just thought I'd mention it for those of you that read last week's tutorial.

The cosine wave is very similar to the sine, except that it is translated by pi/2. The sine is also the derivative of the cosine.


           cos( x ) = sin ( x + pi/2 ) 


That's all you need to know right now. If you ever get into 3D, consider reading up more about this function... It's fascinating! I'd say it's the mother of all functions, but some people would give that name to the exponential. Either way it's a pretty close call :)